Kumaraguru Action for Relief and Empowerment (KARE), was founded in Nov, 2015 during the Chennai floods. KARE supports the victims of natural disasters such as floods, cyclone and other calamities and has supported during Kerala floods & Gaja Cyclone. This is a volunteer movement of Kumaraguru Institutions where many join hands when the need arises.
KARE COVID 19 Response Bulletin is an effort by a group of Kumaraguru alumni, students & informed citizens alike to clear the clutter around COVID 19 by providing informative, insightful news, articles & data around the world under various tags such as Research, Technology, Education, Economy & Insights with a short summary for each.
COVID19 Basic Info & Previous Bulletin Link: tinyurl.com/blog-KARE
STATISTICS
India vs the World – War against a virus
| | | | |
| --- | --- | --- | --- |
| COVID-19 | Active Cases | Recovered | Casualties |
| India | 171,215 | 10,807,877 | 157,360 |
| World | 21,748,306 | 90,816,547 | 2,552,902 |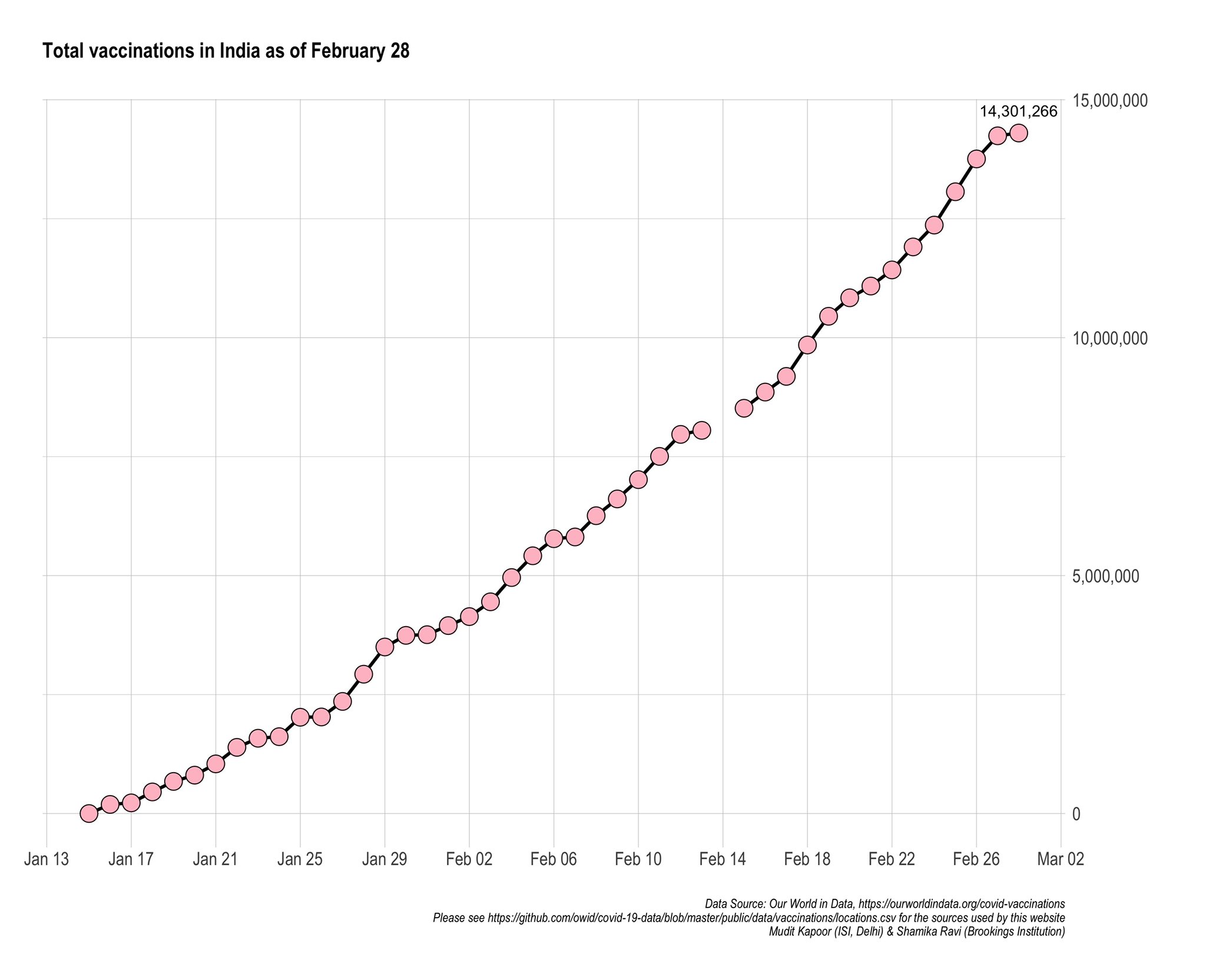 The graph depicts the status of the vaccination drive as of February 28. It is observed that more than 14 million citizens have been vaccinated so far. |Prof. Shamika Ravi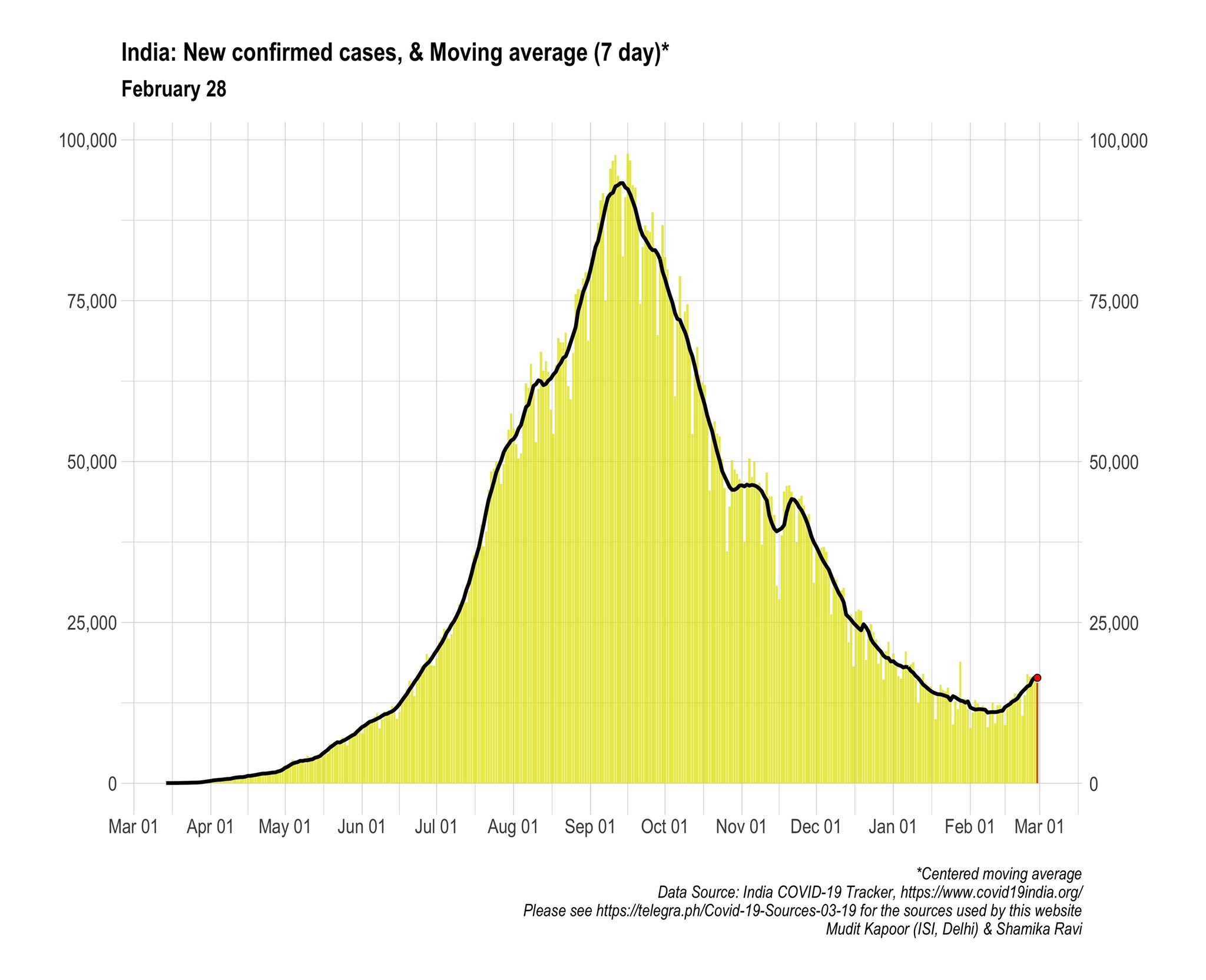 From the above graph for the daily confirmed cases across the country, we can see that the number of confirmed COVID-19 cases have been increasing. 9 states including Maharashtra have recorded an increasing number of cases. | Prof. Shamika Ravi
VACCINE & TESTING
Maharashtra records sudden hike in COVID-19 cases
Until the 10th of February this year, the COVID-19 recovery rate in Maharashtra was equally high as that of the number of active cases. After that, a sudden surge in cases has been reported. It is said that the relaxation of lockdown, the onset of vaccination, and the lack of seriousness given to the precautions might be the cause of the surge in affected rates. In this regard, the health department had sent over 350 random samples from the worst-affected districts for genome sequencing to the National Institute of Virology (NIV) in Pune to "better understand if there was a mutation of the virus". The state government later denied the presence of foreign mutants. Even though the number of cases has increased, not many deaths have been witnessed. |Hindustan Times
Experts see reduced COVID-19 virulence as deaths stay low
Despite the surge in COVID-19 cases in Maharashtra, the Case Fatality Ratio (CFR) dropped low. According to experts, a large caseload with a low Case Fatality Rate (CFR) suggests high SARS-CoV-2 transmission, but not serious COVID-19. Dr Kapil Zirpe, member of the Pune COVID-19 task force said that there has only been an increase in the mild and asymptomatic categories over the last week which explains the drop in CFR. Further, another key reason for the fall in CFR is increase of awareness among the patients for seeking quicker care. There are also adequate health facilities to cater to patients, including those who are critical thus resulting in reduced fatality rate. |Times of India
India starts shipping COVID-19 vaccines to Africa under COVAX facility
COVID-19 Vaccines Global Access, abbreviated as COVAX, is a global initiative aimed at equitable access to COVID-19 vaccines. COVAX is led by the Global Alliance for Vaccines and Immunization, the World Health Organization (WHO), the Coalition for Epidemic Preparedness Innovations, and others. India on Tuesday started shipping COVID-19 vaccines to Africa under the COVAX facility. According to the Ministry of External Affairs (MEA), India has supplied a total of 229.7 lakh doses of Coronavirus vaccines to the global community as of last week.| Live Mint
RESEARCH
A single shot of Pfizer & BioNTech's COVID-19 vaccines reduces the risk of infection
A large real world study in the UK showed that one dose of the Pfizer & BioNTech COVID-19 vaccines reduce the risk of catching infection by more than 70%, rising to 85% after the second dose. This suggests that the vaccine may also help to interrupt virus transmission. The study was conducted when the UK variant – B.1.1.7 was highly prevalent and proved that the vaccine worked well against the variant. Dr Mary Ramsay, the head of immunization at Public Health England, said that there is strong evidence that the Pfizer-BioNTech vaccine is stopping people from getting infected, while also protecting cases against hospitalization and death. |Business Insider
New Indian Strains Of COVID-19 Could Be More Infectious
240 new strains of the virus have surfaced across India. Explaining why herd immunity is not achievable, Dr Guleria, director of All India Institute of Medical Sciences (AIIMS), said mutations or variants in the virus have an "Immune escape mechanism". Regular surveillance data is the key to knowing if vaccines need to be modified to fight the new variant strains. So far, more than 1.07 crore vaccine doses have been administered to health workers and frontline workers for COVID-19.|NDTV
Superspreading drives the COVID-19 pandemic
During Superspreading events, many people are infected at once, typically by a single individual. Choir practices, funerals, family gatherings, and gym classes have all spawned dangerous outbreaks. This uneven, sputtering form of transmission, in which some individuals infect many people but most infect only a few, if any, is shared by SARS-CoV, which caused the deadly epidemic of Severe Acute Respiratory Syndrome (SARS) in 2003, and MERS-CoV, the source of Middle East Respiratory Syndrome. A similar mode of transmission occurs with the pathogens that cause Ebola, smallpox and tuberculosis. Most infections arise from just a handful of people. |Nature
No relation between the new COVID-19 variants and the recent surge in cases
Two new mutant COVID-19 variants, N440K and E484Q have been detected in India. The E484Q strain was earlier detected in four sequences in Maharashtra, in as early as March and July 2020. The N440K mutant has been reported between May and September 2020, in Telangana, Andhra Pradesh, and Assam. In the wake of these new COVID-19 variants coming to light, the health ministry has denied the relationship between the new strains and the recent spike in cases across six states in the country. Calling the research a "work in progress", Niti Aayog member, Dr. VK Paul said that there is no scientific evidence so far to link the cases to the virus strains.|Economic Times
BUSINESS
Rethinking responsible approaches to business
The events of recent months have shown that many current management operating models no longer enable managers to effectively address the challenges of a crisis on the scale. No one has the luxury to take their privileged market positions for granted. It also shows that the UN sustainable development goals should play a core role in corporate governance systems. Currently, we are already seeing reshuffling going on across different sectors. The ongoing second wave of the virus and fears of a third one might deliver even more dramatic changes and severe as a litmus test for many companies. |World Economic Forum
Demand for India's COVID-19 vaccines
Overseas demand for COVID-19 vaccines from India has been picking up, and the export of other vaccines, in general, has declined. The exports dropped to $648 million in April-January against $695 million previously. As per official data, over 25 countries had already received Indian vaccines and about 60 had already expressed interest and are on the 'waiting list'. India's mass vaccination program is currently on with two vaccines, Covishield of Serum Institute and Covaxin of Bharat Biotech which has attracted global attention. |Business Line
EDUCATION
Learning in the time of COVID-19
When information and knowledge are denied to children based on their gender and socio-economic background, we fracture our chance of creating an equitable world. While research tells us that students from higher-income families need eight hours a day of learning, most of India's 320 million poor kids don't even receive that amount of learning per week. Blended learning- which combines online educational materials and opportunities with classroom methods is a new technique of teaching that offers students a multitude of real-world skills. There is an urgent need to work towards a stronger education system and address the learning loss that students from low-income families have suffered. |Your Story
How COVID-19 pandemic is reshaping the education industry
COVID-19 accelerated the adoption of technology in education to create more opportunities. There was a rise in the popularity of unconventional courses such as supply chain management, data analytics, strategic management, among others. Many corporations understood the value that these courses add to the quality of employees' work and moved on to add these modules in their leadership development programme. As more and more institutes adopt the digital learning medium, education has become more personalized and interactive. Moving forward, technology will continue to play an integral role in education.|India Today
LIFESTYLE
Prevention of recurring COVID-19 peaks in the future
A new study suggests that a combination of robust vaccination and physical distancing may help keep COVID-19 outbreaks in check, over time. Experts say that the impact of physical distancing in containing future resurgences of COVID-19 depends greatly on the intensity of measures, population density, and the availability of vaccines across geographical areas and time. They predict that in most cities, vaccination programs and physical distancing combined will be enough to contain virus resurgence without the need to enforce stay-at-home restrictions. |Live Mint
TECHNOLOGY
Contact-tracing apps help reduce COVID-19 infections
Dozens of countries have deployed digital apps that attempt to identify people exposed to the SARS-CoV-2 coronavirus and stop onward transmission. Contact-tracing apps are installed on smartphones, and many involve the Google/Apple Exposure Notification (GAEN) system, which uses the phone's Bluetooth signal to detect when two app users are close to each other. The GAEN system also prevents health authorities from gathering personal information about app users or their devices. Steps are taken to Build a better app that can provide more information like predicting the risk of exposure according to how infectious a person is and measure exposure risk. |Nature
AVIATION
Revised COVID-19 Guidelines at Airports
In addition to three other strains from the UK, South Africa, and Brazil, two new strains of COVID-19 have emerged in India. With this, the guidelines for domestic air travel in India have been revised. All domestic passengers arriving in Maharashtra from Delhi, Rajasthan, Gujarat, Goa, and Kerala are required to carry RT-PCR negative test reports with them conducted 72 hours before. The same guidelines apply for passengers from Kerala and Maharashtra entering Karnataka, Rajasthan, Punjab, and West Bengal. Those not having the test would have to undergo the test at the airport at their own cost. Passengers traveling from Karnataka, Odisha, Kerala, and all other asymptomatic passengers need to undergo home quarantine. Passengers would also need to undergo thermal screening on arrival.|Indian Express
Where can we get authentic information about Coronavirus?
KARE COVID-19 Response So Far
43038 Cooked meals
2279 Volunteering hours clocked.
10 Tons of Vegetables transacted so far.
28+ Number of Farmers impacted so far.
555 Helpline Calls.
500 Grocery Kits & 500 kg Rice
50+ hours of student mentoring & 8 Gadgets
1400 Liquid sanitizer packs
5500 Masks
₹ 4,95,141 Funds Raised.
₹ 6,50,000 Funds Spent.
63000+ Lives Impacted
Impact areas:
Chinnavedampatti, Saravanampatty, Vellaikinar, Sathyamangalam, Sulthanpet, Paapampatti, Sulur, Thondamuthur, Narasipuram, Kangayam, Coimbatore & Pollachi.
TO MAKE A DONATION
KARE Bank Account Details
Account name: KCT KARE
Account number: 1245155000078376
Bank: Karur Vysya Bank
Branch: KCT Extension Counter
IFSC: KVBL0001245
Bank address: Kumaraguru College of Technology, Chinnavedampatti, Coimbatore – 641036