Kumaraguru Action for Relief and Empowerment (KARE), was founded in Nov, 2015 during the Chennai floods. KARE supports the victims of natural disasters such as floods, cyclone and other calamities and has supported during Kerala floods & Gaja Cyclone. This is a volunteer movement of Kumaraguru Institutions where many join hands when the need arises.
KARE COVID 19 Response Bulletin is an effort by a group of Kumaraguru alumni, students & informed citizens alike to clear the clutter around COVID 19 by providing informative, insightful news, articles & data around the world under various tags such as Research, Technology, Education, Economy & Insights with a short summary for each.
COVID19 Basic Info & Previous Bulletin Link: tinyurl.com/blog-KARE
STATISTICS
India vs the World – War against a virus
| | | | |
| --- | --- | --- | --- |
| COVID-19 | Active Cases | Recovered | Casualties |
| India | 624,214 | 11,532,137 | 163,485 |
| World | 22,517,551 | 105,057,204 | 2,843,644 |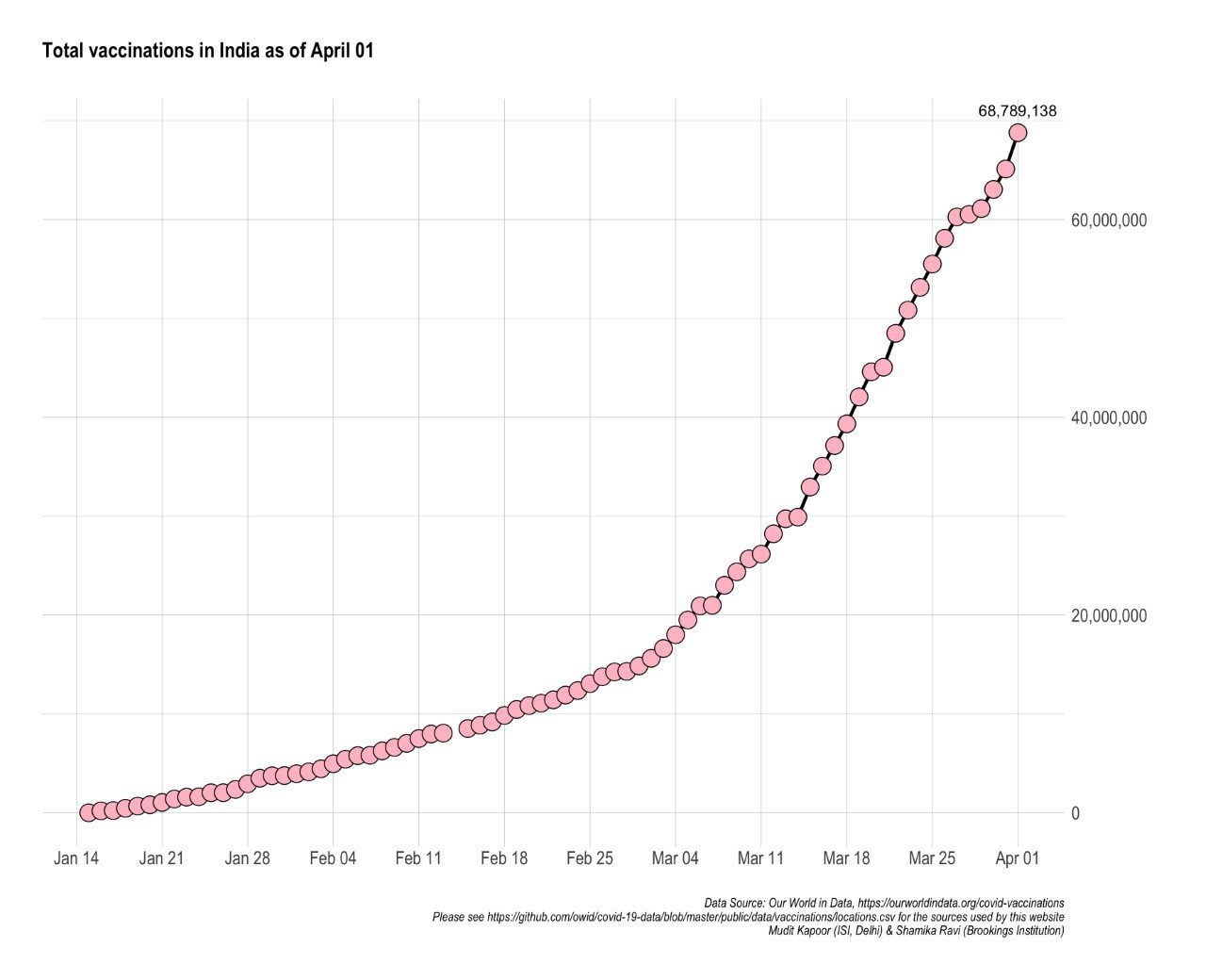 The above graph depicts the status of the COVID-19 vaccination drive across the country, as of April 1, 2021. More than 68 million citizens have been vaccinated, so far. |Prof. Shamika Ravi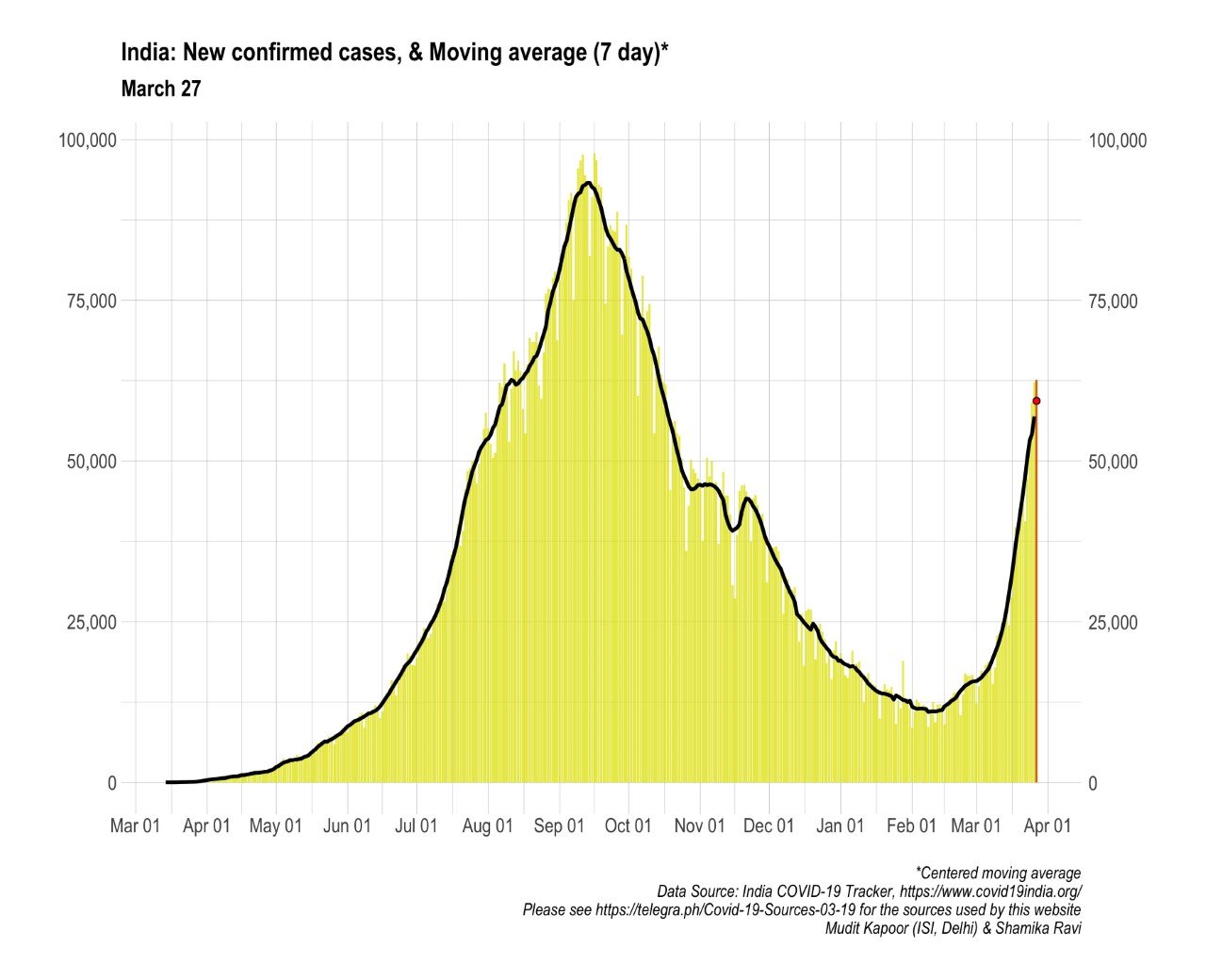 The above graph depicts the COVID-19 cases across the country as of March 27, 2021. It is observed that the COVID-19 cases are relentlessly growing at 6.4%. |Prof. Shamika Ravi
VACCINE & TESTING
COVID-19 Vaccination Status
As of March 28,2021, India crossed 60 million vaccinations. Over 13 million healthcare workers, 12 million frontline workers, 6.6 million people who are over 45 years of age with comorbidities and over 27 million people aged 60 years or more are vaccinated against COVID-19. However, even as the COVID-19 vaccination continues, the burden of the pandemic is gradually increasing. While the total number of covid-19 tests has exceeded 240 million since last week, the daily positivity rate has increased to 5.04% from 5%. Experts warn that the second wave is linked to lack of testing and contact-tracing. |Live Mint
India-The Global manufacturing hub for Sputnik COVID-19 vaccine
Sputnik V, which has shown 91.6 percent efficacy in trials, much higher than the efficacy of Covishield and Covax is currently under review for emergency use authorisation in India. Hyderabad-headed Gland pharma said that the production is expected to commence from the third quarter of 2021 for estimated deliveries starting from the fourth quarter. It will undertake the technology transfer of the drug substance to its manufacturing facilities. Gland Pharma has reportedly inked a pact with Russian Direct Investment fund (RDIF) to supply 252 million doses of Sputnik V. Other pharma companies like Pharma science and Hetero are also in fray to manufacture the vaccines. Overall, the RDIF would be supplying 250 million doses for Indian citizens over the next 12 months from various manufacturing partners. |Business Standard
RESEARCH
The risks of disrupting kangaroo-mother care
A research by the World Health Organization (WHO) shows that the COVID-19 pandemic is severely affecting the quality of care given to small and sick newborns, resulting in unnecessary suffering and deaths. According to the report, disruptions to kangaroo mother care – which involves close contact between a parent, usually a mother, and a newborn baby – will increase such risks. WHO advises that mothers should continue to share a room with their babies from birth and be able to breastfeed and practice skin-to-skin contact – even when COVID-19 infections are suspected or confirmed – and should be supported to ensure appropriate infection prevention practices . According to the most recent estimates, 15 million babies are born preterm each year and 21 million are born at low birthweight ,these babies face significant health risks.| World Health Organization
With masks, gap of 3 feet as effective as 6 feet
A study led by researchers of Beth Israel Deaconess Medical Center (BIDMC), under Harvard Medical School has investigated and found that, with masks on, 3 feet separation works as efficiently as the 6 feet separation in a Massachusetts school setting. The findings suggest that lower physical distancing policies can be implemented in schools without negatively impacting safety, provided there is compulsory usage of masks. The study also indicated that schools, in general, had lower rates of infection rather than their surrounding communities, stating that in-person learning is not a major driver of the pandemic.| Indian Express
COVID-19 vaccine safety after organ transplant
Transplant recipients take powerful immune-suppressing drugs to prevent organ rejection, which increases the risk of contracting COVID-19. According to specialists, the vaccine shots appear safe for transplant recipients and any protection is better than none. However, the transplant recipients might need post-vaccination blood tests to be sure that they are safe from contracting the disease. Those waiting for a life-saving organ transplant might be able to get vaccinated first and those of them who had already received transplant could temporarily cut back on certain immune-suppressing drugs. The immune compromised should be sure to get both vaccine doses for best safety. |Indian Express
EDUCATION
COVID-19 pandemic and its transformational impact on the medical education
The COVID-19 pandemic has had a huge impact on the educational system as a whole. Around the world, people have now realised the growing importance of the physician workforce and the need for educators to develop medical professionals. The current scenario offers a unique opportunity for the medical sector to adopt modern strategies and techniques that can ensure the continuity of learning of the medical students while they adhere to the social distancing norms. However, in the new era of medical education, students are now expected to hit the ground running, needing not only traditional clinical education but also one that is at par with the latest technologies to maintain flexibility at the workplace. The post-pandemic era is an opportune time to implement diverse skill changes in the curriculum and make learning a lifelong experience for the students. |India Today
BUSINESS
How COVID-19 made micro women entrepreneurs digital savvy
The COVID-19 pandemic turned women entrepreneurs from rural sectors to embrace digital solutions. Even though women were disproportionately impacted by the pandemic, they have been disproportionately innovative during the lockdown. A woman who used to sell brooms in her village started to sell snacks through WhatsApp as there was a high rate of reverse migration i.e. people from cities moved to villages. Another woman who has been selling school uniforms shifted to manufacture masks with the clothes she bought to stitch uniforms. In 2018, Mastercard partnered with Mann Deshi Foundation to set up a Rural Women Chamber of Commerce, to increase services for women-led businesses and strengthen sales networks among women entrepreneurs. The Mastercard and Mann Deshi Foundation are now setting up a new chapter in Kolhapur and expect to benefit 34,000 women by 2021.|Business Today
ECONOMY
Labour in post-pandemic India
One of the greatest economic challenges faced by the Indian citizens during the pandemic is unemployment. While this challenge is not new, the COVID-19 pandemic has accentuated it. The pandemic is expected to have lasting consequences for the labour market. The introduction of the new labour codes will work to further diminish the bargaining power of labour as they give employers the flexibility to hire and fire workers and restrict the right to strike. Even though these were long-pending and necessary reforms, their introduction in a period of economic downturn will hurt the most as the outside options for workers are low. So, despite the best efforts, there are significant challenges that will remain within the Indian labour markets long after the coronavirus has been eradicated. The first step should be ensuring there are adequate jobs in the economy. And history has shown that growth alone cannot guarantee job or wage growth. The Indian economy needs growth in sectors that are especially labour-intensive.| Economic Times
Impacts of COVID-19 on creative industry
The creative economy sectors in publishing, broadcast, advertising, performing arts, crafts, film, and others contribute to national GDP in the formal and informal economy and drive wealth creation. The arts and heritage sectors are the essential DNA of India's cultural relations reputation internationally. A recent report highlights the continued uncertainty in the creative sector and recommends emergency action to prevent permanent closure and disruption. During the pandemic, the freelance and gig-workforce have been the worst hit. Individual professionals and artisans face hand-to-mouth existence surviving on food parcels and state governments micro-grants. Strengthening the creative economy now in India needs to be a priority. |India Today
TECHNOLOGY
Artificial Intelligence aids the fight against COVID-19
People around the world are looking for new-age technologies like Artificial Intelligence (AI), machine-learning, and data science to track and fight the Coronavirus. A team of researchers reportedly used a combination of fundamental biology and machine learning. Their computer algorithm predicted many more potential hosts of new virus strains than have previously been detected. Scientists say their findings could help to target the surveillance for new diseases – possibly helping prevent the next pandemic before it starts. Another team used an AI-assisted method that predicted 26 potential vaccines that would work against the coronavirus. From those, the scientists identified the best 11 from which to construct a multi-epitope vaccine, which can attack the spike proteins that the Coronavirus uses to bind and penetrate a host cell.| Financial Express
MENTAL HEALTH
Global rise in childhood mental health issues amid coronavirus pandemic
The pandemic has brought about an alarming impact on the mental health of children. Pediatric psychiatrists see cases where the child suffers from panic attacks, heart palpitations and other symptoms of mental anguish, as well as chronic addictions to mobile devices and computer screens. Apart from these, psychiatrists say, they have also come across children who have coronavirus-related phobias, eating disorders, obsessing about infection and other mental health complications during the pandemic. Children also tend to keep their mental anguishes to themselves and many a times they lack the vocabulary to voice out their mental stress and ask for help. The pandemic has not only impacted the lives of adults but has also been increasingly impacting the lives of the children. |India Today
Coping with the COVID-19 pandemic
Weight gain, increase in stress levels and a feeling of helplessness are noticed among people trying to cope with the pandemic situation during the COVID-19 pandemic, mental health specialists say, quoting a nationwide study. Higher stress levels were noted in the working-age population bound within their homes. Indulging in "stress eating" or more of eating to reduce mental stress, resulted in weight gain and there were also increases in blood pressure and diabetes among those above age 45. Mental health experts opine that the long-term impact will be seen from children to senior citizens and its complete adverse effect will be known only after a few years.| Deccan Chronicle
ENVIRONMENT
Pandemic's other scourge
The environmental consequences of COVID-19 impact various aspects of the planet's life. Plastics and other medical waste created while dealing with COVID-19 could prove to be environmental hazards. The unavoidable increment in the quantity of single-use plastic products required for personal protection and healthcare has disrupted and impacted the short-term and long-term waste management practices. The Canadian government has decided to award grants for developing solutions for the manufacture of compostable disposable surgical masks and respirators to be used by healthcare workers and for the efficient and cost-effective recycling of disposable PPE waste generated in the Canadian healthcare sector.| Indian Express
Where can we get authentic information about Coronavirus?
KARE COVID-19 Response So Far
43038 Cooked meals
2279 Volunteering hours clocked.
10 Tons of Vegetables transacted so far.
28+ Number of Farmers impacted so far.
555 Helpline Calls.
500 Grocery Kits & 500 kg Rice
50+ hours of student mentoring & 8 Gadgets
1400 Liquid sanitizer packs
5500 Masks
₹ 4,95,141 Funds Raised.
₹ 6,50,000 Funds Spent.
63000+ Lives Impacted
Impact areas:
Chinnavedampatti, Saravanampatty, Vellaikinar, Sathyamangalam, Sulthanpet, Paapampatti, Sulur, Thondamuthur, Narasipuram, Kangayam, Coimbatore & Pollachi.
TO MAKE A DONATION
KARE Bank Account Details
Account name: KCT KARE
Account number: 1245155000078376
Bank: Karur Vysya Bank
Branch: KCT Extension Counter
IFSC: KVBL0001245
Bank address: Kumaraguru College of Technology, Chinnavedampatti, Coimbatore – 641036(Visited 244 times, 9 visits today)