Kumaraguru Action for Relief and Empowerment (KARE), was founded in Nov, 2015 during the Chennai floods. KARE supports the victims of natural disasters such as floods, cyclone and other calamities and has supported during Kerala floods & Gaja Cyclone. This is a volunteer movement of Kumaraguru Institutions where many join hands when the need arises.
KARE COVID 19 Response Bulletin is an effort by a group of Kumaraguru alumni, students & informed citizens alike to clear the clutter around COVID 19 by providing informative, insightful news, articles & data around the world under various tags such as Research, Technology, Education, Economy & Insights with a short summary for each.
COVID19 Basic Info & Previous Bulletin Link: tinyurl.com/blog-KARE
STATISTICS
India vs the World – Global fight against a virus
| | | | |
| --- | --- | --- | --- |
| COVID-19 | Active Cases | Recovered | Casualties |
| India | 1,080,674 | 27,911,384 | 367,097 |
| World | 12,284,764 | 159,988,599 | 3,801,496 |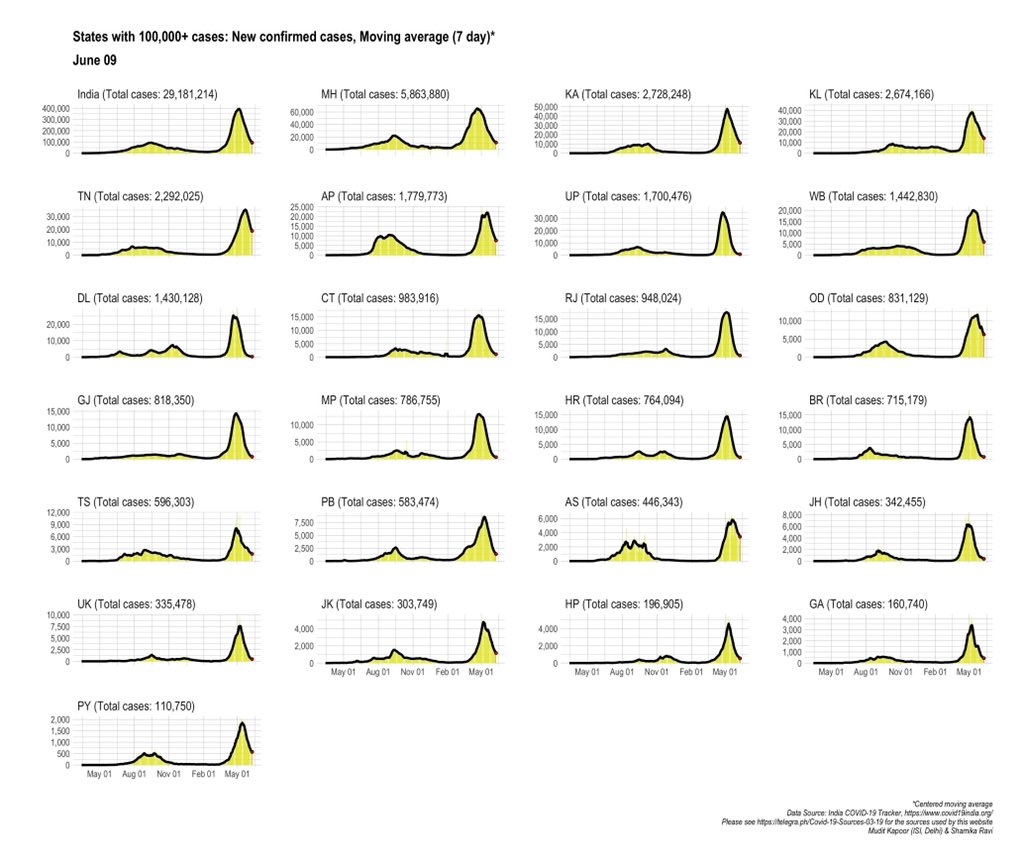 The graph above shows the total number of COVID-19 cases across the country as of June 09, 2021. From the graph, a decline in the daily cases across the states in India is observed. |Prof. Shamika Ravi
VACCINATION
Details on Sputnik V
Sputnik V is a vaccine developed in Russia and is produced by RDIF's international partners in India, Brazil, China, South Korea and other countries. It is the world's first registered vaccine wherein a gene from adenovirus which causes infection is removed while a gene with the code of a protein from another virus spike is inserted. Two different types of adenovirus vectors (rAd26 and rAd5) are used to boost the effect of the vaccine. Sputnik V has an efficacy of 91.6% and is administered in 2 doses. It is advised that pregnant women, individuals with thrombocytopenia, any coagulation disorder, or persons on anticoagulation therapy should restrain from taking Sputnik V. The vaccine's side effects include: pain at injection site and weakness or low energy, Rare adverse effects which includes breathing difficulties, convulsions, swelling, muscle weakness, high blood pressure, headaches, dizziness, and fevers. |Precision Vaccinations |News18 |euobserver |Sputnik V vaccine
Details on Pfizer
The vaccine is manufactured by Pfizer, Inc., and BioNTech. It is an mRNA-based vaccine and is administered in 2 doses, 21 days apart. Within 4 weeks of first dose protective immune develops. The vaccine is recommended for people aged 12 years and older. People suffering from severe or immediate allergic reactions and people with respiratory distress are not allowed to take the vaccine. It's side effects include: Pain, Redness, and swelling where the shot is given. Tiredness, Headache, Muscle pain, Chills, Fever, Nausea. The side effects usually start within a day or two of getting the vaccine. As of now, it is reported that the immune memory lasts for 6 months, only after further monitoring accurate details could be known. |CDC |NewScientist
Details on Moderna vaccine
The Moderna vaccine is a 2-dose vaccine wherein the second shot is taken about 28 days after the first. The Moderna vaccine is highly effective with an efficacy of 94.1% against symptomatic COVID-19 and 100% against severe COVID-19. Like the Pfizer vaccine, Moderna is also an mRNA-based vaccine. mRNA vaccines teach our cells how to make a that triggers an immune response inside our bodies. The vaccine is stable for 30 days at temperatures between 2C and 8C. The vaccine's side effects include: chills, headache, tiredness, pain, lushed skin, swelling at the injection site. |CDC
Details on Covishield
Covishield or the Oxford-AstraZeneca vaccine or ChAdOx1 nCoV-19 or AZD1222 is a monovalent, recombinant, replication-deficient viral vector-based vaccine. Weakened version of adenovirus from chimpanzees are modified to look more like corona virus. The vaccine is stable at 2-8 C. The vaccine is administered in two doses. The time interval between two doses has been extended from 4-6 weeks to 12-16 weeks. The vaccine has an 90% efficacy. It's common side effects include: Tenderness, pain, redness, itching, swelling, or bruising where the injection is given, Fatigue, Chills, Cough, Headache, nausea, and Joint pain. |Times of India| Ministry of Health & Family Welfare| Serum Institute – COVID fact sheet| Serum Institute|Instagram| Economic Times
Details on Covaxin
Covaxin is India's first indigenously produced COVID-19 vaccine. It is Developed with the Indian Council of Medical Research (ICMR) and National Institute of Virology (NIV). Covaxin is a whole-virion inactivated vaccine and is Stable at 2-8 C. Reports suggest that Covaxin is effective in showcasing good tolerance against new, infectious, mutant strains. The vaccine is administered in 2. The Second dose given 4-6 weeks after the first. Covaxin has 81% efficacy. Some of its side effects include: Injection site pain, Swelling, Redness, Itching, Headache, Fever, body ache, Nausea, Vomiting and Rashes. |Times of India| Ministry of Health & Family Welfare| Bharat Biotech – Covaxin| Bharat Biotech-Covaxin fact sheet | Economic Times| Instagram
Pfizer's COVID-19 vaccine protects against worrying Coronavirus variants
According to a research from Qatar's vaccination drive, people who have taken the Pfizer vaccine are 75% less likely to be infected by the B.1.351 strain. A team in Qatar studied thousands of patients from December 2020 to March 2021 and compared infection rates in vaccinated and unvaccinated people and this showed that there weren't many serious cases in individuals who had taken both doses of the vaccine. Only two deaths were recorded in this group and experts believe that this is because these individuals may have been infected with the virus before vaccination. |Nature
How Vaccines work and what is herd immunity?
Vaccines contain material from the virus that causes COVID-19 and they give instructions on making a harmless protein that is unique towards the virus. When our cells make copies of the protein, they destroy the genetic material present in the vaccine. They will recognize that this protein should not be there and build lymphocytes. Herd immunity takes place when a large portion of the community becomes immune to a disease. This will make the spread of the disease slow, and the community as a whole becomes protected. We can achieve herd immunity when enough people in the population have recovered from the disease and developed protective antibodies. Herd Immunity can also be achieved through vaccination.| WHO
CT scan and its importance on COVID-19
Computed Tomography (CT) scan is more reliable, practical and rapid method to diagnose and access COVID 19. It has high sensitivity for diagnosis of COVID 19. It possesses a well-established role in the assessment of patients presenting with severe respiratory distress. When used with lab tests, a thorough medical history and a physical exam, CT scans or x-rays can be helpful for determining a plan of care for a patient. |Nature
What to do before and after getting vaccinated?
Before vaccination it is important to do a proper research on the COVID-19 vaccines. Physical activities need to be avoided 2 or 3 days before getting shots. Pressure and sugar levels to be kept under control. People with cancer, especially those undergoing chemotherapy must act on medical advice. People with history of allergies should discuss it with their doctor beforehand. Sleep at least 6 hours prior vaccination. Anti-inflammatory medicines are to be avoided the week before or after vaccination. For registration use Aarogya Setu App or CoWin website. After vaccination, avoid alcohol consumption, Pain relievers can be used when needed. Consult doctor before taking any medication.Side effects like fever and fatigue are common. Basic precautionary methods should be followed even after vaccination. |Indian Express |UNICEF |Instagram |Times of India
Side effects post vaccination and how to cope up with them
Common side effects post vaccination include: Pain, swelling, or redness at the injection site, Mild fever, Chills, fatigue, headache, muscle and joint aches, Nausea. These effects last no longer than a few days. Side effects like Swelling of face and throat, difficulty in breathing, rapid heartbeat, rashes all over the body, anaphylaxis, dizziness and weakness are some serious side effects and these are extremely rare. To cope up with after-effect of vaccination, keeping an Ice pack or cold compress on the vaccination spot, taking a cold shower, and drinking plenty of fluids would help. Analgesics like paracetamol can also be taken to reduce the side-effects. |CDC|US Department of Health and Human Sciences| World Health Organization |Times of India
'Remdesivir doesn't save lives – but desperate families demand that doctors prescribe it'
The Antiviral drug remdesivir has been among the defining images of the second wave of COVID-19 infections in India. Based on the WHO (World Health Organization) solidarity trial results and three other Randomized Control Trials, the WHO issued a conditional recommendation against the use of remdesivir. Multiple studies clear that it does not reduce mortality and the clinical worsening of a patient. Remdesivir can only help in reducing the length of stay in a hospital. |Scroll|New Indian Express|Forbes
Asymptomatic cases
Asymptomatic people should avoid rushing to hospitals and are recommended for home isolation. According to the guidelines issued by the Union Health Ministry, a care-giver should be available on 24×7 basis and a communication link between the caregiver and the hospital is a pre-requisite. Elderly patients with comorbidities and other immunocompromised patients would be allowed to self-quarantine only after proper evaluation by a medical official. The caregiver and all close contacts should take Hydroxychloroquine prophylaxis as per protocol and as prescribed by the treating medical officer. The masks should be disposed after disinfecting it with 1% Sodium Hypochlorite. Daily temperature monitoring has to be done by the patient. Remdesivir or any other investigational therapy must be administered only in hospital setting. In case of falling oxygen saturation/shortness of breath, seeking immediate consultation is necessary. |Ministry of Health & Family Welfare |Business Standard
What to do after testing positive for COVID-19?
It is important to plan the next course of action after testing positive for COVID-19. It is essential to take appropriate measures by considering the severity of the disease. COVID-19 can be mild, moderate or severe. In the case of mild or asymptomatic infections, it is recommended to stay at home and follow the treatment procedure as advised by the doctor. Those with moderate symptoms might need to get themselves admitted in a hospital. Anti-inflammatory, immunomodulatory therapy, clinical and lab monitoring would be done based on the evaluation by the healthcare professional. Patients who experience severe symptoms might need treatment in the ICU. Following appropriate COVID-19 measures, healthy diet, maintain a proper sleep pattern, consultation from a doctor and monitoring oxygen saturation and temperature levels is inevitable after testing positive for the disease. |Times of India |CDC
The needs of oxygen and the whys of it
The normal blood oxygen levels are 95 percent and above. Home oxygen therapy is helpful when level is 88 percent or less. Some people only need extra oxygen at certain times. As long as the patient's saturation level is in the 90s, it means that the patient is getting the right amount of supplemental oxygen. Pulse oximeters are devices that help to measure oxygen in our blood. Pulse oximeters help in monitoring the oxygen saturation levels in a COVID-19 patient. |Choosing Wisely| Indian Express
Where can we get authentic information about Coronavirus?
KARE COVID-19 Response So Far
43038 Cooked meals
2279 Volunteering hours clocked.
10 Tons of Vegetables transacted so far.
28+ Number of Farmers impacted so far.
640 Helpline Calls.
500 Grocery Kits & 500 kg Rice
50+ hours of student mentoring & 8 Gadgets
1400 Liquid sanitizer packs
5500 Masks
₹ 4,95,141 Funds Raised.
₹ 6,50,000 Funds Spent.
63000+ Lives Impacted
Impact areas:
Chinnavedampatti, Saravanampatty, Vellaikinar, Sathyamangalam, Sulthanpet, Paapampatti, Sulur, Thondamuthur, Narasipuram, Kangayam, Coimbatore & Pollachi.
TO MAKE A DONATION
KARE Bank Account Details
Account name: KCT KARE
Account number: 1245155000078376
Bank: Karur Vysya Bank
Branch: KCT Extension Counter
IFSC: KVBL0001245
Bank address: Kumaraguru College of Technology, Chinnavedampatti, Coimbatore – 641036