Kumaraguru Action for Relief and Empowerment (KARE), was founded in Nov, 2015 during the Chennai floods. KARE supports the victims of natural disasters such as floods, cyclone and other calamities and has supported during Kerala floods & Gaja Cyclone. This is a volunteer movement of Kumaraguru Institutions where many join hands when the need arises.
KARE COVID 19 Response Bulletin is an effort by a group of Kumaraguru alumni, students & informed citizens alike to clear the clutter around COVID 19 by providing informative, insightful news, articles & data around the world under various tags such as Research, Technology, Education, Economy & Insights with a short summary for each.
COVID19 Basic Info & Previous Bulletin Link: tinyurl.com/blog-KARE
STATISTICS
India vs the World – Global fight against a virus
| | | | |
| --- | --- | --- | --- |
| COVID-19 | Active Cases | Recovered | Casualties |
| India | 145,690 | 10,546,905 | 155,195 |
| World | 25,672,857 | 78,997,508 | 2,336,303 |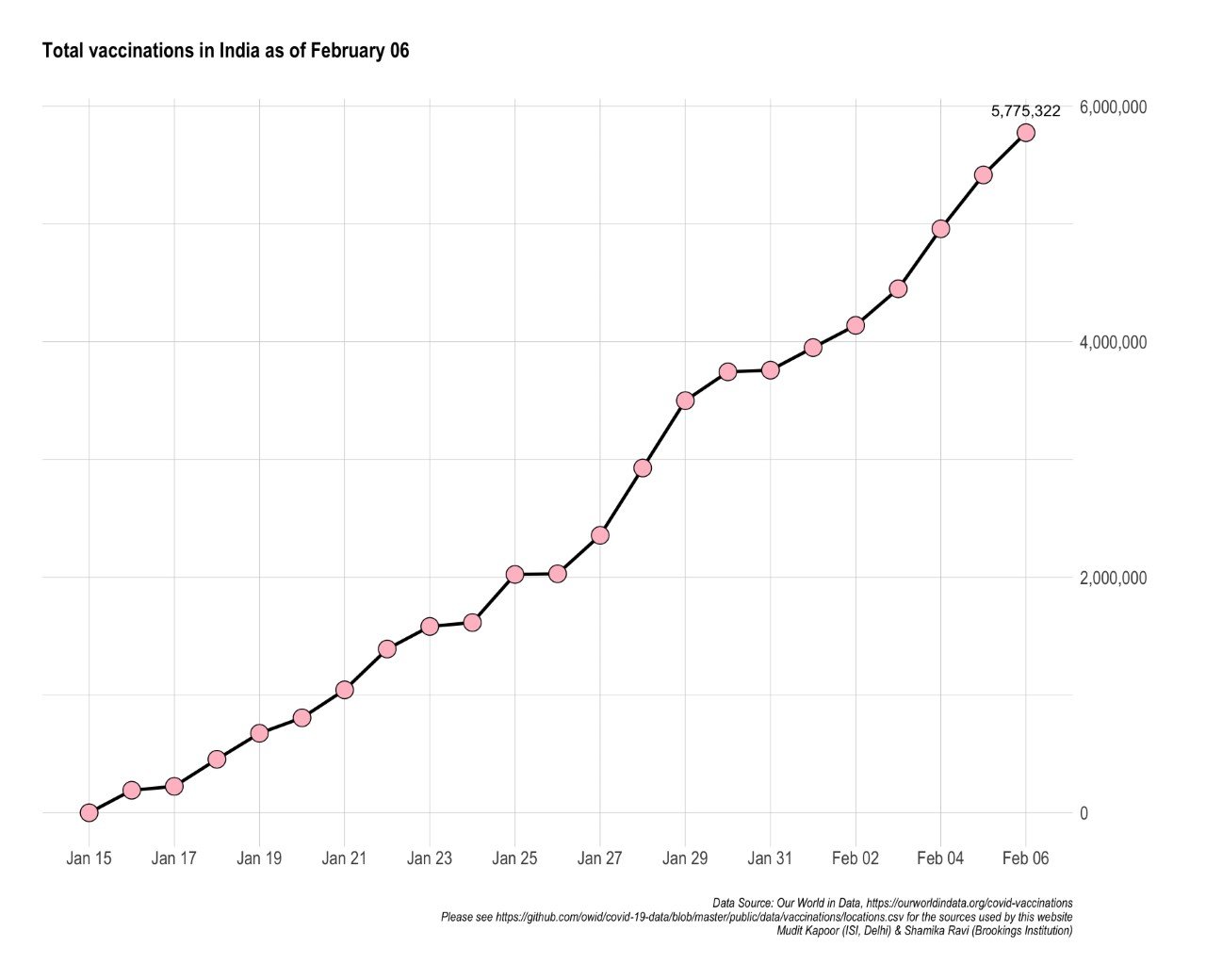 From the above graph we can observe the status of vaccination drive across the country. As of the first week of February, nearly 5 million citizens have been vaccinated. |Prof. Shamika Ravi
The above graph depicts the active cases across the world as of January 31. It is observed that the active cases in India have continued to fall steadily for 4.5 months (unlike elsewhere)acknowledging the fact that India has significantly overcome the COVID19 contagion.| Prof. Shamika Ravi
VACCINE & TESTING
UK university scientists finalise nasal spray that blocks out COVID-19
A nasal spray which can prevent the coronavirus infection is being prepped for mass production by scientists at the University of Birmingham. The spray is a combination of an antiviral agent called carrageenan and gellan which is an important component because it has the ability to be sprayed into fine droplets inside the nasal cavity. This formula helps prevent infection by capturing the virus in the nose and encapsulating it in a coating which it cannot escape from. The team believes using the spray four times a day would be enough for general protection, although it is safe enough to be applied every 20 minutes if in a high-risk, densely populated environment such as schools.| Outlook India
People can choose their timings for vaccination
Members of the general public who will be first in line to get coronavirus vaccines may be able to choose when and at which immunization center they will take their shots. Since, it will largely be elderly population that will line up for the vaccination, the government wants to make it as convenient for them as possible and it will be similar to online bookings. This group includes approximately 270 million people above the age of 50 as well as younger people with comorbid conditions associated with higher risk from COVID-19. India has vaccinated 2 million health care workers who were first in the priority list. Next in line are essential service staff such as sanitation workers, police and the armed forces, before the first of the general public begins to get doses.| Hindustan Times
RESEARCH
One million COVID-19 vaccine doses administered in India in six days
India took only 6 days to administer one million COVID-19 vaccine doses. In a testament to the successful test-track-treat-technology strategy, India continues on its steady trajectory of reporting a sustained downfall in the daily new cases and consequential decline in the active cases, the ministry underlined. India's active cases today stand at 1,84,408 which comprises of 1.73 per cent of the total cases. The ministry said that 80.67% of the 14,849 new COVID-19 cases recorded in a span of 24 hours are concentrated in six states and UTs.| Business Insider
Dogs sniff out COVID-19
Dogs in a training center built inside a shipping contain in a Czech Mountain village, sniff and report a 95 percent success rate in COVID-19 detection in samples of human scent. The samples are obtained by merely rubbing a piece of cotton against the patient's skin. The sample is also ensured to be virus free so that the dogs don't catch the disease. The project head stated that the method would also work with diseases which are more lethal than COVID-19.|Times of India
The vaccine scare
India's vaccination drive saw a massive turnout with a large number of people inoculated on the first day itself. However, over time, the percentage of inoculation of those in health care has been decreasing with the passing day. With top health department officials, doctors and the government authorities urging people on the importance of taking the vaccine, the declining percentages seem alarming. Though scientists point out that side effects are natural to any vaccine, the safety of the COVID-19 vaccines are still questioned. Hence, various health professionals are trying to bring awareness on the safety and effectiveness of the vaccines.| Siasat
ECONOMY
WEF's Online Davos Summit begins
The World Economic Forum's online Davos Agenda Summit had begun with the premier of a concert filmed during the coronavirus pandemic in different parts of the world. The event has the top global leaders, including Prime Minister Narendra Modi and Chinese President Xi Jinping, speak on the state of the world. According to the World Economic Forum (WEF), Advancements and acceleration of public-private collaboration on critical issues such as COVID-19 vaccination, job creation and climate change, among others, by the Industry leaders and public figures would be the primary itinerary. While the WEF annual meeting for 2021 will be held during May 13-16 in Singapore, the high-profile summit will return to Davos in 2022.| Outlook India
Budget needs to provide the boost to sustain an average 8-9% GDP growth over FY22, FY23
India has chartered, quite well, an indigenously frugal course to tackle the pandemic and its socio-economic fallout. The 'Budget of the Century' has raised expectations as governments, in the developed and emerging world, are viewed as 'messiahs' for deliverance from the pandemic-pain and concomitant socio-economic distress. To put the Budget imperative into a single phrase 'provide the prudent JAB to sustain an average 8-9 percent GDP growth over FY22 and FY23 whilst ensuring a risk-free rate at sub 6.25 percent'. Acknowledging this, experts suggest a two-year rolling Budget as a prudent, one-off departure in the circumstances, akin to twin-dose vaccines.| Money Control
Sensex hits 50,000 :Unprecedented upside in Indian equity markets
Many believed that the index may fall to 20,000 levels in the last week of March 2020 as the uncertainty of COVID-19 outbreak weighed supreme. In the last nine months, India has done significantly better than several countries in containing the epidemic. And positive news flow on vaccination, the American President Joe Biden's victory, the announcement of modest stimulus (approximately 2 percent of GDP) by the government, has strengthened the recovery momentum. The balance sheet of higher income households is fairly healthy and is driving discretionary spending. Further, banks and NBFCs have raised more than Rs. 90,000 crore via equity issuances in CY20 to prepare for a surge in bad loans. This has driven a sharp rally in the bank/NBFC sector that accounts for more than a third of Nifty index weightage. |Business Today
EDUCATION
International Education Day
The United Nations General Assembly proclaimed 24th January as International Day of Education, in celebration of the role of education for peace and development. On this International Day of Education, UNESCO promotes education as a fundamental right and the most powerful aid to development that we have. The third International Day of Education (January 24) was marked on Monday 25 January 2021 under the theme 'Recover and Revitalize Education for the COVID-19 Generation'.The global event for the day was planned along three main segments: learning heroes, innovations, and financing. It was organised in partnership with the UNESCO New York Office, UNHQ, the Global Partnership for Education and the Centre for Interdisciplinary Studies (CRI), and features the participation of partners from the Global Education Coalition.| UNESCO
COVID-19: The intersection of education and health
The International Day of Education provides an opportunity to reflect on the weaknesses of the education system before COVID-19, and on the impact of school closures and education disruptions on children and adolescents. In addition to the loss of learning, a lack of access to school means that many children lose protection from hazards such as domestic violence and child abuse, others lose access to the only nutritious meal of their day, and many will miss immunizations that are often given at school. It also increased the dropout rates and child labor. There is evidence that holistic approaches to education that value health and wellbeing can be effective. But their success is dependent on the political will to implement and support them. Closer cooperation would revitalise not only education, but also child and adolescent health. |The Lancet
MENTAL HEALTH & FITNESS
Wheel power-the joy of pedalling
After a gap of 37 years, Mysore resident N Sudha Satish began cycling at 49. Since she had to give up her exercise of climbing the stairs to the top of Chamundi Hills due to the pandemic and two months ago, she began to cycle. Cycling doesn't just keep you physically fit, it also helps your mental health. Pedalling and enjoying helps deal with stress," she says. Now, she covers 200km a week, with a trekker and mother of two, 45-year-old Veena Ashok. "We take photographs and enjoy nature, which makes us energetic. Earlier, we barely saw people cycling. But post-Covid, many people have taken it up, especially on weekends," she says. The lockdown and the necessity to maintain physical distance due to COVID-19 has made many people switch from exercising in gyms or swimming pools, to cycling alone, or in groups. Parents too have bought cycles for their kids as physical activities have been limited by the pandemic.| Indian Express
Where can we get authentic information about Coronavirus?
KARE COVID-19 Response
KARE is now supporting the front-line workers through local government by providing Food, Personal Protective Equipment (PPE) & sanitizers made in-house at the Kumaraguru Institutions. KARE is also connecting the farmers with communities who would required vegetables in bulk.
KARE COVID-19 Response So Far
43038 Cooked meals
2259 Volunteering hours clocked
10 Tons of Vegetables transacted so far
28+ Number of Farmers impacted so far
500 kg Rice
1300 Liquid sanitizer packs
2500 Masks
₹ 4,95,141 Funds Raised
₹ 6,50,000 Funds Spent
57000+ Lives Impacted
Impact areas:
Chinnavedampatti, Saravanampatty, Vellaikinar, Sathyamangalam, Sulthanpet, Paapampatti, Sulur, Thondamuthur, Narasipuram, Kangayam, Coimbatore & Pollachi.
TO MAKE A DONATION
KARE Bank Account Details
Account name: KCT KARE
Account number: 1245155000078376
Bank: Karur Vysya Bank
Branch: KCT Extension Counter
IFSC: KVBL0001245
Bank address: Kumaraguru College of Technology, Chinnavedampatti,Coimbatore – 641036