Kumaraguru Action for Relief and Empowerment (KARE), was founded in Nov, 2015 during the Chennai floods. KARE supports the victims of natural disasters such as floods, cyclone and other calamities and has supported during Kerala floods & Gaja Cyclone. This is a volunteer movement of Kumaraguru Institutions where many join hands when the need arises.
KARE COVID 19 Response Bulletin is an effort by a group of Kumaraguru alumni, students & informed citizens alike to clear the clutter around COVID 19 by providing informative, insightful news, articles & data around the world under various tags such as Research, Technology, Education, Economy & Insights with a short summary for each.
COVID19 Basic Info & Previous Bulletin Link: tinyurl.com/blog-KARE
STATISTICS
India vs the World – The mass vaccination drive
| | | | |
| --- | --- | --- | --- |
| COVID-19 | Active Cases | Recovered | Casualties |
| India | 217,839 | 10,111,294 | 151,364 |
| World | 24,027,231 | 65,409,422 | 1,955,155 |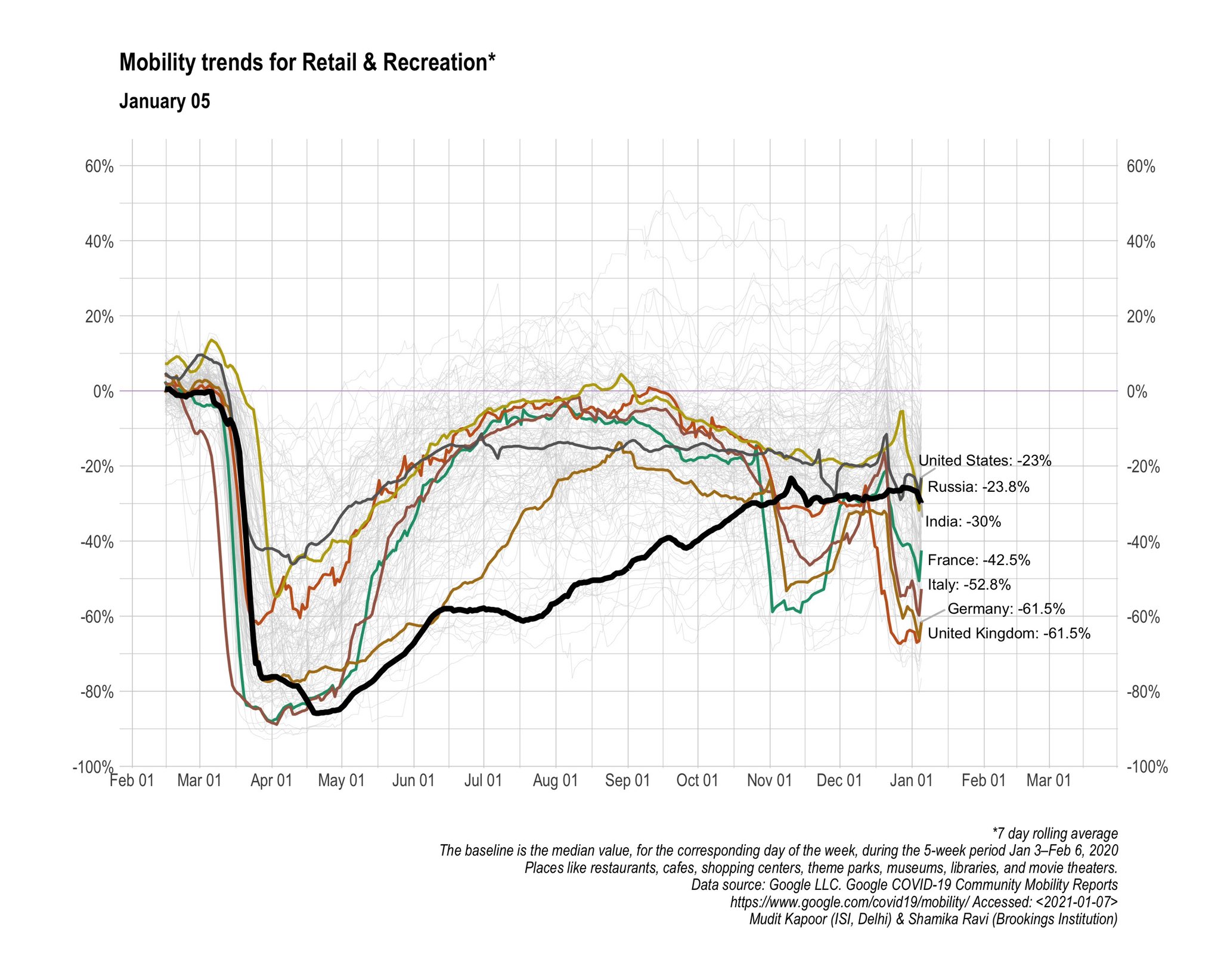 The above graph depicts the economic recovery across countries: (mobility trends in retail & recreation)
1) Most European countries which had rapid recovery over summer, have now witnessed significant decline since September (with 2nd wave of COVID19 infections)
2) India shows a slow but steady recovery.| Prof. Shamika Ravi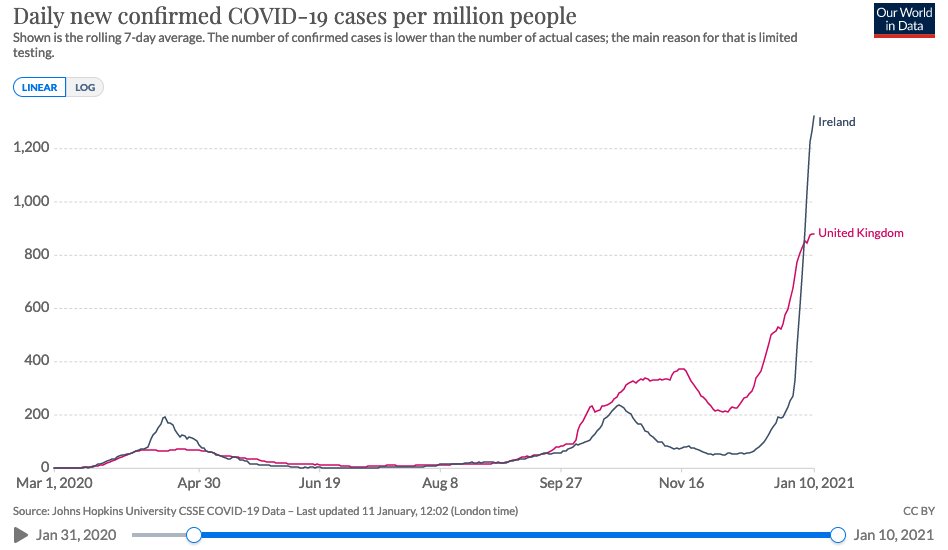 The above graph shows the newly confirmed COVID-19 cases in the UK and Ireland on a daily basis. The B.1.1.7 variant(COVID strain) is spreading like wildfire in the UK and Ireland and if this prevails, it will make an already-bad situation even worse. | Dr.Tom Frieden
VACCINE
India's very first COVID-19 vaccines
The Drugs Controller General of India (DCGI) approved the emergency use of Oxford coronavirus vaccine Covishield and Bharat Biotech's Covaxin, making them India's first vaccines against the pandemic. It is said that the overall efficacy of the Oxford-AstraZeneca COVID-19 vaccine is 70.42% while Bharat Biotech's Covaxin is safe and provides a robust immune response. As per an official release, the Subject Expert Committee (SEC) had met and made its recommendations in respect of the accelerated approval process request of the SII, Bharat Biotech International Ltd as well as about phase-III trials of Cadila Healthcare Ltd.| Times of India
RESEARCH
Covishield vs Covaxin: All you need to know
The Drug Controller General of India gave the final approval to two vaccines against COVID-19 for restricted emergency use. With this, it can be expected that the vaccination drive in India will begin soon. Oxford- Astrazeneca's Covishield uses a replication-deficient chimpanzee viral vector based on a weakened version of a common cold virus (adenovirus) that causes infections in chimpanzees and contains the genetic material of the SARS-CoV-2 virus spike protein. Covaxin, the indigenous vaccine developed by Bharat Biotech is an inactivated vaccine. An inactivated vaccine is one which is developed by inactivating (killing) the live microorganisms that cause the disease. Bharat Biotech has conducted phase one and two trials on 800 participants, apart from its several animal trials. Its third trial is on the go and a total of 22,500 already participants took part in it. | Hindustan Times
Speedy distribution of COVID-19 vaccines : A major challenge
The Central Drugs Standard Control Organisation (CDSCO), India's drug regulator had approved for the restricted emergency use of Oxford- Astrazeneca's Covishield, manufactured by the Serum Institute of India (SII) and Covaxin of Bharat Biotech for the front line warriors and senior citizens. As India gears up for this biggest vaccination drive against COVID-19, there is a formidable challenge of rapidly scaling up distribution of vaccines to secure immunity. The goal of Covaxin is to to deliver two billion doses of safe, effective vaccines that have passed regulatory approval by the end of 2021. Currently, there are 45 candidate vaccines in clinical evaluation and 156 candidate vaccines in pre-clinical evaluation, the WHO scientists said.| Livemint
ECONOMY
Budget to set course for economic pick up after COVID pandemic
India's economy had been losing momentum even ahead of the shock delivered by the pandemic. The rate of GDP growth sank to a more than ten-year low of 4.2 per cent in 2019, down from 6.1 per cent the previous year. High-frequency indicators, including exports, automobile sales, energy consumption and manufacturing output have shown an uptick, which some have seen as an indication of a "V" shaped recovery. Rating agencies and analysts have raised their expectations of GDP growth in fiscal to March 2021 with RBI predicting a small positive growth. The projected GDP growth does indicate that the worst is over, but it still does not indicate whether the economy has recovered the lost ground and/ or surpassed it.| One India
Most affected sectors of the COVID-19 pandemic
The year 2020 had created the fear of losing jobs , loved ones and even questioned one's financial security. Though all the sectors faced crisis, Aviation, Tourism, Automobile and Real estate seemed to be the most affected sectors. These sectors directly or indirectly affected many people including Tourist guides, Vehicle drivers, hotels and so on. "COVID-19 crisis has brought a change in the way consumers think. They are reverting to the Indian way of thinking —save some for a crisis so as not to get caught off guard", says KSC Bose, general secretary, Confederation of Real Estate Developers' Associations of India (CREDAI), AP Chapter.| Indian Express
EDUCATION
A SoftBank-backed education start-up
Kahoot is a game-based online learning service that lets players create and engage in multiple-choice quizzes. The firm is listed on Oslo's Euronext Growth exchange but is now planning a full listing on the main Norwegian stock market. It's backed by the likes of SoftBank, Microsoft and Disney, as well as venture capital firms Creandum and Northzone. With a market value of $5.7 billion, Kahoot could be one of the first European tech IPO in 2021. Kahoot's IPO preparations come at a time when remote learning demand is again creeping up as countries in Europe tighten their COVID-19 restrictions.| CNBC
Education – the great equalizer – more than ever
Education is the key to personal development and the future of societies. It unlocks opportunities and narrows inequalities. The decisions that governments and partners take now will have lasting impact on hundreds of millions of young people, and on the development prospects of countries for decades to come. The Policy Brief calls for action in four key areas: First, reopening schools. Second, prioritizing education in financing decisions. Third, targeting the hardest to reach. Fourth, reimagining education by investing in digital literacy and infrastructure, an evolution towards learning how to learn, a rejuvenation of life-long learning and strengthened links between formal and non-formal education.| UN
MENTAL HEALTH
Tackling mental setbacks
With the lockdown confining people indoors and giving no chance or very less chance for interaction, people lived with a constant fear of the invisible. Medical experts encountered countless stories of spousal abuse, teenage issues, and cases of children with autism spectrum disorder. Every disaster requires a usual healthy way to recover by going and growing through phases of grief and resolution. According to doctors, One needs to share, communicate and everybody needs to be not ashamed of being worried and in extreme cases one should seek help from mental health professionals to step out of them.| India Today
SPORTS
Olympics 2020: India's wrestling preparations on hold
With the spike in cases in Japan, the government has imposed restrictions (new directive banning) on foreigners entering the country. Despite the grave situation, the country is stern on hosting the 2021 Olympics. According to new rules, if Kurobe wants to host the Indian contingent, the city is 'required by the central government to compile COVID-19 countermeasure guidelines that must be followed by local authorities and overseas visitors, including how to provide transportation for athletes and take anti-virus steps at training facilities.| Indian Express
ENVIRONMENT
2020 saw the environment bounce back to its glory, even if temporarily
According to the Central Pollution Control Board, a significant improvement in air quality during lockdown was observed in Delhi. The pollution level in India's five most-polluted cities – Ghaziabad, Delhi, Noida, Greater Noida and Gurgaon – came down by over 50 percent during first 10 days of lockdown imposed to combat COVID-19 outbreak. Besides air quality, improvement in water quality of seven rivers also improved which was attributed to minimal industrial effluent discharges . The government also made it clear this year that India's approach will be positive and constructive at the crucial 26th UN Climate Change Conference (COP 26) scheduled to be held in Glasgow, UK in November 2021, and it will make all efforts to make it a success.| Hindustan Times
Where can we get authentic information about Coronavirus?
KARE COVID-19 Response

KARE is now supporting the front-line workers through local government by providing Food, Personal Protective Equipment (PPE) & sanitizers made in-house at the Kumaraguru Institutions. KARE is also connecting the farmers with communities who would required vegetables in bulk.

KARE COVID-19 Response So Far

43038 Cooked meals
2259 Volunteering hours clocked
10 Tons of Vegetables transacted so far
28+ Number of Farmers impacted so far
500 kg Rice
1300 Liquid sanitizer packs
2500 Masks
₹ 4,95,141 Funds Raised
₹ 6,50,000 Funds Spent
57000+ Lives Impacted

Impact areas:

Chinnavedampatti, Saravanampatty, Vellaikinar, Sathyamangalam, Sulthanpet, Paapampatti, Sulur, Thondamuthur, Narasipuram, Kangayam, Coimbatore & Pollachi.
TO MAKE A DONATION
KARE Bank Account Details

Account name: KCT KARE
Account number: 1245155000078376
Bank: Karur Vysya Bank
Branch: KCT Extension Counter
IFSC: KVBL0001245
Bank address: Kumaraguru College of Technology, Chinnavedampatti,Coimbatore – 641036