Kumaraguru Action for Relief and Empowerment (KARE), was founded in Nov, 2015 during the Chennai floods. KARE supports the victims of natural disasters such as floods, cyclone and other calamities and has supported during Kerala floods & Gaja Cyclone. This is a volunteer movement of Kumaraguru Institutions where many join hands when the need arises.
KARE COVID 19 Response Bulletin is an effort by a group of Kumaraguru alumni, students & informed citizens alike to clear the clutter around COVID 19 by providing informative, insightful news, articles & data around the world under various tags such as Research, Technology, Education, Economy & Insights with a short summary for each.
COVID19 Basic Info & Previous Bulletin Link: tinyurl.com/blog-KARE
STATISTICS
India vs the World – The long-awaited vaccine to kill a virus
| | | | |
| --- | --- | --- | --- |
| COVID-19 | Active Cases | Recovered | Casualties |
| India | 248,633 | 9,927,310 | 149,471 |
| World | 23,038,981 | 60,110,468 | 1,843,866 |
The above graph depicts the active cases across the world. It is inferred that the active cases in India (black) witness a steady decline in the midst of major surge across most countries.|Prof. Shamika Ravi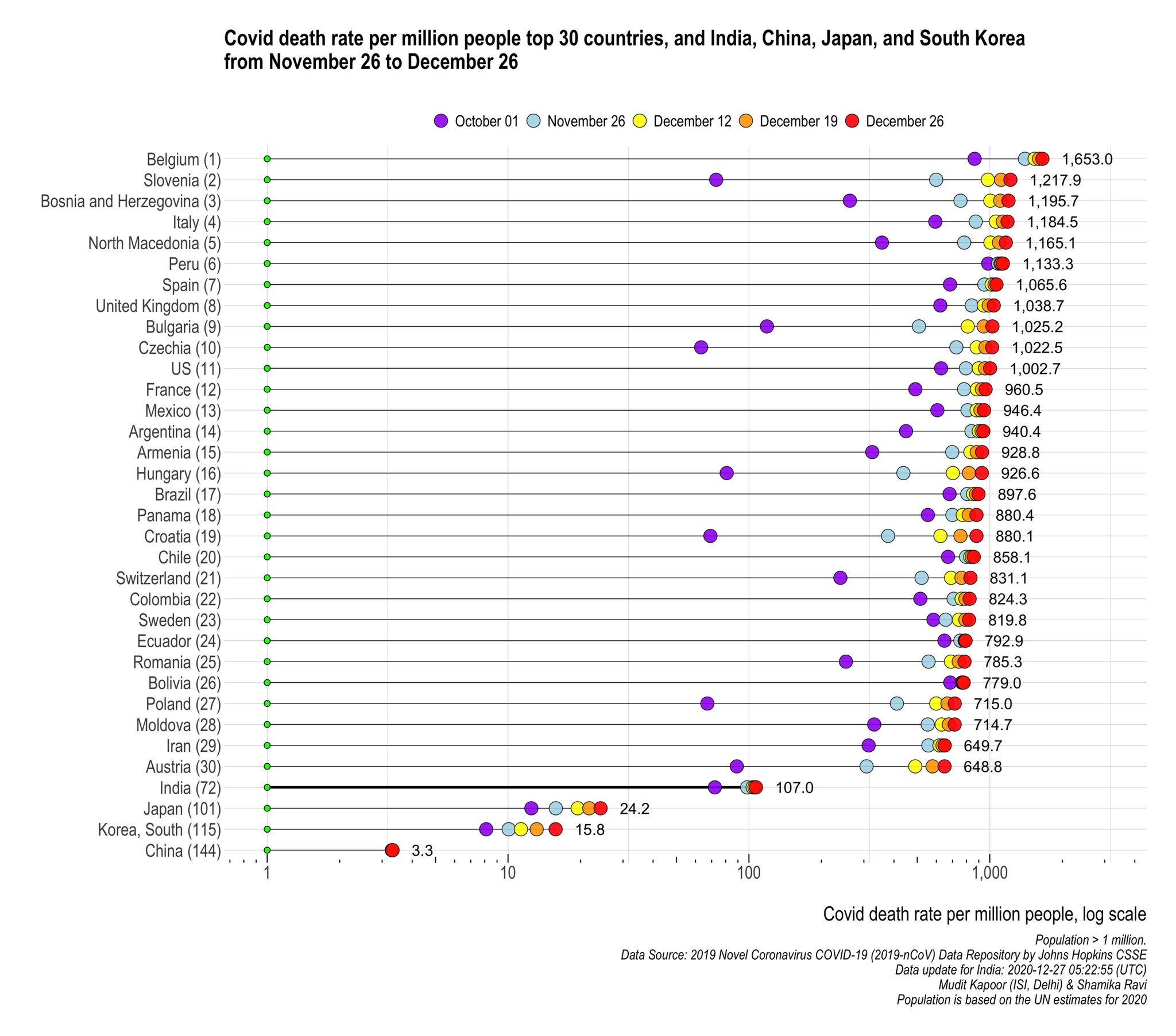 The above graph depicts the COVID death rate per million (global ranking) across countries. It can be seen that there is a scary surge in deaths over last 3 months in Eastern Europe. The numbers are decreasing distinctly in India. |Prof. Shamika Ravi
VACCINE AND TESTING
Does the administration of more than one COVID vaccine boost immunity ?
More than 200 COVID-19 vaccines are in development worldwide and that keeps people wondering if taking more than one type of COVID-19 vaccine might offer long-lasting protection. Many traditional childhood vaccines require a booster which is taken after months or years later so that the immunological memory is strengthened. As far as coronavirus vaccines are concerned, taking more than one type of vaccine is considered to be a thought experiment. Also, looking at the current state, administration of more than one type of vaccine is difficult but scientists are looking for a possibility. However, the safety of any combination of COVID-19 vaccines hasn't been determined.|National Geographic
The wait for COVID-19 vaccine
According to researchers, nearly a quarter of the global population, that is, the younger and healthy citizens who are last in line for receiving the COVID-19 vaccine might have to wait until 2022 and possibly longer. This could be a problem as the virus could still prevail and affect global trade and travel. Vaccines which are at an earlier stage of development may be better suited for distribution in developing countries but production will still take time. There might also be vaccine hesitancy by parts of the population to wait for the most effective one. All these challenges spark the need for global coordination while rolling out the vaccines. |Fast company
RESEARCH
The coronavirus slips its genetic material into human chromosomes
People who recover from COVID-19 sometimes later test positive for SARS-CoV-2, suggesting their immune systems could not ward off a second attack by the coronavirus or that they have a lingering infection. All viruses insert their genetic material into the cells they infect, but it generally remains separate from the cell's own DNA. To test whether SARS-CoV-2's RNA genome could integrate into the DNA of our chromosomes, the researchers added the gene for reverse transcriptase (RT), an enzyme that converts RNA into DNA, to human cells and cultured the engineered cells with SARS-CoV-2. In one experiment, the researchers used an RT gene from HIV. |Science Mag
COVID: Genes hold clues to why some people get severely ill.
Scientists looked at the DNA of patients in more than 200 intensive care units in UK hospitals.They scanned each person's genes, which contain the instructions for every biological process – including how to fight a virus.Their genomes were then compared with the DNA of healthy people to pinpoint any genetic differences, and a number were found – the first in a gene called TYK2.Variations in a gene called IFNAR2 were also identified in the intensive care patients.New treatments to be found are inevitable even after the arrival of vaccine.|BBC
ECONOMY
Pandemic saps 81 million jobs in Asia-Pacific in 2020
Low levels of social security coverage and limited institutional capacity in many countries have made it difficult to help enterprises and workers back on their feet. Employment in Asia-Pacific showed a 4.2% decline compared with the pre-crisis trend, with the gap at 4.6% for women and 4% for men, the ILO( International Labour Organization) said in a report. Young people have been especially affected by working-hour and job losses. With fewer paid hours of work available, median incomes are falling. Overall, labor incomes in the region fell by as much as 9.9% in the first three quarters of the year, equivalent to a 3.4% drop in gross domestic product, the ILO said.| Bloombergquint
EDUCATION
EduTech Evolution 2021
The Coronavirus Outbreak has led to a new-age and revolutionary EduTech experience for children all over the world. Live-learning technology provides an interactive platform for the teachers and the students to understand and focus on the learning experience. e-learning enables the students to see the real-world applications and benefits of the subject matter. It provides a personalised way of teaching and learning that is solely customised as per the individual. Gamified learning aims to help the students be interested in learning as they enjoy the delivery of conceptual knowledge in the form of games. Despite the initial discomfort with technology, schools and educational institutions are welcoming remote learning. |India Today
COVID-19 has fuelled a global 'learning poverty' crisis
COVID-19-related school closures are forcing countries even further off track from achieving their learning goals. School closures, and the effectiveness of mitigation and remediation, will affect the magnitude of the learning loss, while the economic impact will affect dropout rates. School reopening, when safe, is critical, but it is not enough. The simulation results show major differences in the potential impacts of the crisis on the learning poor across regions. The big challenge will be to rapidly identify and respond to each individual student's learning needs flexibly and to build back educational systems more resilient to shocks, using technology effectively to enable learning both at school and at home.|World Economic Forum
HEALTH AND FITNESS
COVID-19 brings back focus on Yoga
Boosting immunity is an essential requisite to fight against highly infectious coronavirus. Experts feel that the pandemic has rejuvenated the interest in yoga practices and the introduction of online yoga studios and virtual classes have led to an unexpected boom in the yoga industry. Experts stressed that yoga should be introduced as a regular activity in schools, universities, health centres, corporations in a bid to revolutionize value education and the importance of health and self-care.|Financial Express
MENTAL HEALTH
Mental health-related queries during COVID pandemic
Lockdown measures had an impact on not only our physical health but also mental health. It seems that people during the COVID pandemic period have become curious about their mental health more than ever. There has been a substantial increase in online mental health consultations. Some of the common topics are panic attacks, anxiety, and stress, others such as bipolar disorder and depression are also on the list. Physical appointments went down by 32 per cent as visits to secondary care specialists like neurosurgeon, somnologist, cardiologist, and oncologist grew significantly.| Financial Express
ART
Impact of COVID-19 on tattoo industry
The Mumbai-based tattoo artist, popular for his work in Bollywood, sounds exhausted after a long day of tattooing workshops with 25 aspiring artists from across South India. The three-day workshop that culminated on Sunday, Vikas says, was an attempt to bust myths and spread awareness on tattoo art in South India. "Everyone seems to be following the Internet Gods, and if they don't follow the right practice, the quality will drop," says Vikas "I also find that people are very passionate about art here. I find this to be very cool but the only catch is that artists don't have the right facilities." Tattooing is ultimately a luxury. On the brighter side, there is not much of a health or hygiene concern specific to the pandemic.| The Hindu
Learning art in the time of COVID-19 pandemic
For some people, the global pandemic hindered how well students could learn their coursework in the first place, and their performance academically more broadly, with the transition to remote learning. The predicament has also taken a toll on both students and faculty personally and professionally. Some teachers find the transition to being fully online to be difficult, especially with the amount of time they are allotted to providing each course with content and trying to design a seamless learning experience. The biggest problem for a few students was following written instructions. But at the same time some feel that peer critiques and discussions through online to be fabulous.| The Skyline View
Where can we get authentic information about Coronavirus?

KARE COVID-19 Response
KARE is now supporting the front-line workers through local government by providing Food, Personal Protective Equipment (PPE) & sanitizers made in-house at the Kumaraguru Institutions. KARE is also connecting the farmers with communities who would required vegetables in bulk.
KARE COVID-19 Response So Far
43038 Cooked meals
2259 Volunteering hours clocked
10 Tons of Vegetables transacted so far
28+ Number of Farmers impacted so far
500 kg Rice
1300 Liquid sanitizer packs
2500 Masks
₹ 4,95,141 Funds Raised
₹ 6,50,000 Funds Spent
57000+ Lives Impacted
Impact areas:
Chinnavedampatti, Saravanampatty, Vellaikinar, Sathyamangalam, Sulthanpet, Paapampatti, Sulur, Thondamuthur, Narasipuram, Kangayam, Coimbatore & Pollachi.
TO MAKE A DONATION
KARE Bank Account Details
Account name: KCT KARE
Account number: 1245155000078376
Bank: Karur Vysya Bank
Branch: KCT Extension Counter
IFSC: KVBL0001245
Bank address: Kumaraguru College of Technology, Chinnavedampatti,Coimbatore – 641036